Now don't get me wrong, a lot of men look good sprouting some hair below their nose. I have threatened my husband that on no condition he may shave off his. I have a picture from his pre-me years, it is scary to say the least. To me, Kamal looks best in his pre-nayagan days than in his clean-shaven northie-wannabe look. There are some who better not show their face without it. Then there are some, who better not forget to shave everyday, may be even twice a day.
Look at Vijay, Arjun or Prashant, they look like they need a healthy dose of Miracle-Gro. And then there is old man Sharath, who looks good either way. There are still people around who sport a naam-ke-vaaste one, a la yesteryear romantic lead Gemini. Don't you feel like taking a razor to them while they are sleeping? And for some time, there were men sporting a small caterpillar just under their lips. What was that, for G's sake? Either you want one or you don't. These are the wishy-washy neither-here-nor-there undecided types.
You are wondering what brought this up? The new look that SRK is sporting for Paheli. Most northies don't look good with a moush and most southies without. Wonder why! Admitted, it is necessary for him to grow one, in going with his Rajasthani character. But couldn't he have done a better job with it? I guess these people are not used to one and cannot figure how to look good with it and end up being awkward. There are of course exceptions. I liked Aamir in his hirsuite avatar for The Rising.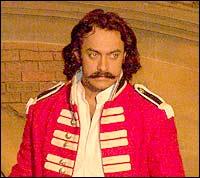 (Pics: Rediff)
Tom Selleck and his moush are synonymous. Kevin Kline looks better with it. But only people with dark hair seem to hit it off in their relation with facial fuzz. Either that or the Santa Claus look. Only extremes help the fair folks.
I think they need to have a course in growing a suitable moush. May be the Coimbatore Goundar or the Tirunelveli Pillai or the Tiruchur Nair can teach it!
What I am trying to say is, all ye men, if you can't handle it, then don't grow those handles. I think SRK needs to brush up(pun unintended) on his reading, especially Jeeves, as in
Jeeves and the Feudal Spirit
.